SEPTEMBER 11 COMMEMORATION 2002
"Although we will never forget the tremendous loss that we suffered, New York is a stronger city today than it was a year ago: determined to rebuild and resolved to preserve our precious freedom."
New York Mayor Michael Bloomberg Thanks Nations for Help And Support Following Attacks. September 2002.

"In the United States, the physical scars are with each passing day less noticeable but our wounds as a people are not yet healed."
Remarks by Ambassador Coats at Commemorative Event by the Checkpoint Charlie Stiftung "Danke Berlin". 11. September 2002.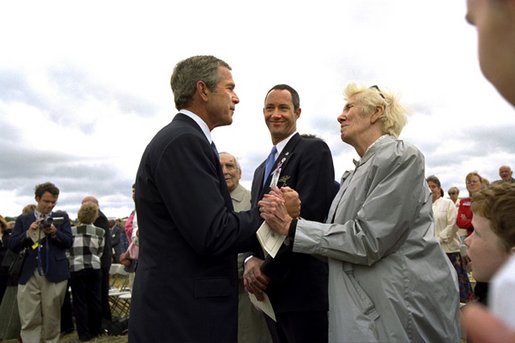 "We all remember where we were and how we felt when we learned of the terrorist attacks last September 11. We remember the blue sky of that Tuesday morning and, moments later, the black smoke that streaked against it. We remember the terrible scenes of planes crashing into buildings and the dread we felt as we learned the names of mothers and fathers, brothers and sisters, children and their teachers -- innocent victims from more than 80 countries."
"Where We Stand" by President George W. Bush. Byliner in "USA Today" Weekend Edition, September 6, 2002.

"September the 11th was not the beginning of global terror, but it was the beginning of the world's concerted response. History will remember that day not only as a day of tragedy, but as a day of decision ..."
Videotaped Remarks by President Bush to Commemorate September 11th. 11. September 2002.

"September 11, 2001 will always be a fixed point in the life of America. The loss of so many lives left us to examine our own. Each of us was reminded that we are here only for a time, and these counted days should be filled with things that last and matter."
President Bush's Address to the Nation. Ellis Island, September 11, 2002.

"These attacks painfully demonstrated that security in our world is
indivisible. ... We should try to use the coalition against terrorism to forge a coalition for global security and global development based on freedom, solidarity, justice, and the rule of law."
Chancellor Schröder's Statement in Observance of the First Anniversary of the 9/11 Attacks in the United States. September 11, 2002.

Photo:
President George W. Bush talks to relatives of the victims from Flight 93 after laying a wreath at the crash site in Somerset County Pennsylvania on September 11, 2002. (White House photo by Eric Draper)