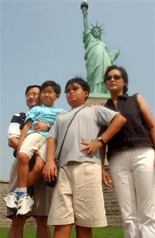 Posing for a family photograph outside the Statue of Liberty on New York's Liberty Island. (AP Photo/Jennifer Szymaszek)
The Statue of Liberty began lighting the way for new arrivals at a time when many native-born Americans began to worry that the country was admitting too many immigrants. Some citizens feared that their culture was being threatened or that they would lose jobs to newcomers willing to accept low wages.
In 1924 Congress passed the Johnson-Reed Immigration Act. For the first time, the United States set limits on how many people from each country it would admit. The number of people allowed to emigrate from a given country each year was based on the number of people from that country already living in the United States. As a result, immigration patterns over the next 40 years reflected the existing immigrant population, mostly Europeans and North Americans. Prior to 1924, U.S. laws specifically excluded Asian immigrants. People in the American West feared that the Chinese and other Asians would take away jobs, and racial prejudice against people with Asian features was widespread. The law that kept out Chinese immigrants was repealed in 1943, and legislation passed in 1952 allows people of all races to become U.S. citizens.
Today Asian Americans are one of the fastest-growing ethnic groups in the country. About 15 million people of Asian descent live in the United States. Although most of them have arrived here recently, they are among the most successful of all immigrant groups. They have a higher income than many other ethnic groups, and large numbers of their children study at the best American universities.
U.S. Secretary of Labor
Elaine Chao in San Francisco's
Chinatown
Chinese Largest Asian Group in the United States
Chinese comprised more than 20 percent of the 11.9 million people who identified themselves as Asians in Census 2000, according to a report released March 4, 2002 by the U.S. Commerce Department's Census Bureau. That translates into 2.7 million reporting as Chinese -- the largest Asian group in the United States. "The Asian Population: 2000," one in a series of Census 2000 briefs, also showed that about 50 percent of the Asians resided in three states: California, New York and Hawaii. Two of these states had Asian populations exceeding 1 million: California (4.2 million) and New York (1.2 million). Census Bureau Press Release
Graphic Novels - Drawing the Asian-American Experience
Asian-American artists and writers have attained considerable prominence as creators of sophisticated graphic novels, many of which explore cultural identity and social issues.
From Philosophy to Food, Asian Culture Inspires Americans
Asian cultural influences have lapped at the American shores ever since the Chinese brought their herbal medicines and array of other plants during the California Gold Rush in the mid-19th century. But it's only since the 1980s that Asia's influence, along with Asian-American demographic growth, began to take off on a massive scale, becoming respectable and — indeed — desirable. The effect is that what once was considered ethnic or even esoteric has spilled irrevocably into the mainstream, mixing with mainstream habits and transforming the landscape. (America.gov. May 13, 2009)
Asian Pacific American Heritage Month a Celebration of Diversity
Contributions of Asian Americans to U.S. culture are honored in May (America.gov. May 1, 2009)
U.S. Minority Population Continues to Grow. By David Minckler
Slightly more than one-third of the population of the United States -- 34 percent -- claims 'minority' racial or ethnic heritage, a jump of 11 percent from 2000.
The May 1, 2008 Census Bureau report, covering estimates for the year 2007, confirms that the U.S. population is becoming increasingly diverse. Hispanics and Asians continue to be the two fastest-growing minorities. There are 45.5 million Hispanics living in the United States, accounting for 15 percent of the U.S. population. Blacks comprise the second-largest minority group, with 40.7 million (13.5 percent), followed by Asians, with 15.2 million (5 percent). (America.gov, May 14, 2008.)