Bridge New York - Berlin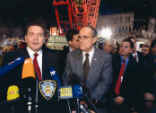 During his meeting with New York Mayor Rudolph Giuliani on October 9, 2001 in New York, the Federal Chancellor invited 1,000 young New Yorkers to Germany. The young members of the victims' families are to take a trip across the Atlantic and spend two weeks visiting Germany and Berlin as part of a "New York - Berlin Bridge."

In the following letter to Mayor Giuliani, Chancellor Schröder confirmed his invitation:
October 12, 2001
Dear Mr. Mayor,
Having returned from the U.S., I would like to thank you for taking time on October 9 to escort us in person to Ground Zero. I can barely find words to describe the horror I felt. The energy with which you and the New Yorkers have mastered the consequences of this horrendous attack has won the respect of all Germans.
To support the families of the victims of the terrorist attack, I will make 5 million US dollars available for the Twin Tower Fund you have set up.
I am pleased you have taken up my proposal for a "New York-Berlin Bridge". At the invitation of the Federal Government, 1000 young people from New York are to visit Berlin and Germany for a fortnight. They will live with German host families.
The Chairman of the Board of Management of the US-German firm DaimlerChrysler, Jürgen Schrempp, has offered to coordinate the accommodation in guest families. The US Ambasssador in Berlin, Dan Coats, has also pledged his support.
You agreed to nominate the young people. The German Consul-General in New York, Bernhard von der Planitz, will answer any questions you may have.
I wish you and the residents of New York courage and strength at this difficult time. You can count on us.
Sincerely, Gerhard Schröder


"The Chancellor's invitation for students to come from New York to Berlin builds bridges once again, this time across the Atlantic Ocean. I hope it will be a foundation of a lasting friendship between you and the young Germans you are going to meet."
Hans Martin Bury, Minister of State at the Federal Chancellery, to the first group of New York youths in the Bridge New York - Berlin Program. February 16, 2002

"We have come to underscore our common humanity, expressed so profoundly in the music of this concert," states a declaration by the musicians before the beginning of the concert. "John F. Kennedy said during a critical moment of Berlin's history, 'Ich bin ein Berliner.' In this horrible moment we say to you: 'We are all New Yorkers.' "
Berlin Philharmonic Orchestra at Carnegie Hall in New York City. October 4, 2001.

Photo:
Chancellor Gerhard Schröder with New York Mayor Giuliani at Ground Zero. New York, October 9, 2001. (BPA)