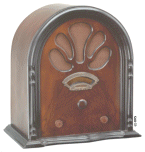 The beginning of regular commercially licensed sound broadcasting in the United States in 1920 ended the print monopoly over the media and opened the doors to the more immediate and pervasive electronic media. By 1928, the United States had three national radio networks - two owned by NBC (the National Broadcasting Company), and one by CBS (the Columbia Broadcasting System).
Though mostly listened to for entertainment, radio's instant, on-the-spot reports of dramatic events drew huge audiences throughout the Great Depression of the 1930s and World War II. President Franklin Roosevelt recognized the potential of radio to reach the American public, and during his four terms (1933-1945), his radio "fireside chats" informed the nation on the progress of policies to counter the Depression and on developments during World War II. After World War II, television's visual images replaced the audio-only limitation of radio as the predominant entertainment and news vehicle. Radio adapted to the new situation by replacing entertainment programs with a format of music interspersed with news and features. In the 1950s, automobile manufacturers began offering car radios as standard accessories, and radio received a big boost as Americans tuned in their car radios as they drove to and from work.
The expansion and dominance of FM radio, which has better sound quality but a more limited range than traditional AM, represented the major technical change in radio in the 1970s and 1980s. FM radio, aided by the invention of ever smaller portable radios and inexpensive "Walkman" headsets, dominates music programs, while AM has shifted to "talk" and news formats. Barely in existence 25 years ago, "talk radio," in which celebrities and experts from various fields answer listener "call-in" questions and offer their advice on various topics, has grown spectacularly in recent years. It has contributed to the comeback of AM radio. Both FM and AM radio have become increasingly specialized. Music formats, for instance, comprise a variety of specializations -- the top five in 1991 being "country and western," "adult contemporary," "top 40," "religious" and "oldies."
In an era in which TV is clearly the glamour medium, the reach of radio is still awesome. Ninety-nine percent of American households in 1999 had at least one radio; the average is five per household. Every day, radio reaches 80 percent of the U.S. population at one time or another. Revenues more than doubled from $8.4 billion in 1990 to more than $17 billion in 1999.
In 1998, the number of U.S. commercial radio stations had grown to 4,793 AM stations and 5,662 FM stations. In addition, there are 1,460 public radio stations in the United States. Most of these stations are run by universities and public authorities for educational purposes and are financed by public and/or private funds, subscriptions and some underwriting. NPR (National Public Radio) was incorporated in February 1970 under the 1967 Public Broadcasting Act. NPR was created to provide leadership in national newsgathering and production and to act as a permanent nationwide interconnection of noncommercial stations.