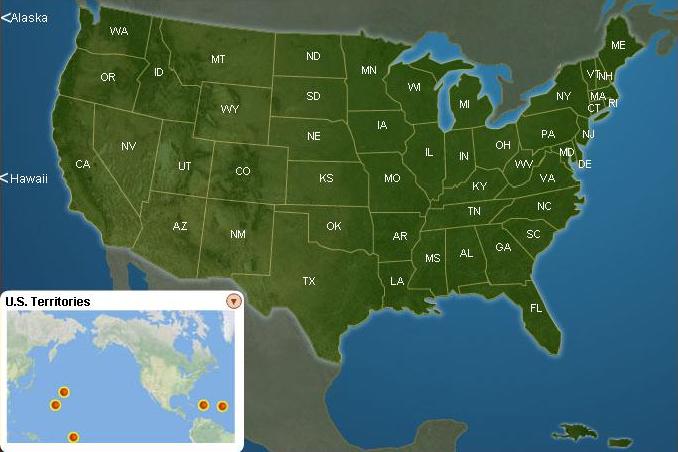 See interactive map at: http://www.discoveramerica.com/ca/places.html
Discover America is the official travel and tourism Web site of the United States. Sponsored by the Travel Industry Association (TIA) with support from the U.S. Department of Commerce, several of the State Tourism Offices and Convention and Visitors Bureaus, and leading travel industry partners, the site is an invitation call to explore the diverse destinations found throughout the USA. The 50 states, the District of Columbia and five territories are filled with landmarks that have become icons of the nation itself. Countless experiences await visitors, from scenic coastlines and mountain ranges to vast prairies, deserts and canyons. The excitement of America's cities is matched by the charms of its smaller communities. All showcase the heritage and culture of the United States.
http://www.discoveramerica.com/ca/
U.S. Visa Regulations
Under U.S. visa law and regulations, German citizens do not generally need to obtain a visa if they intend to travel to the United States for business or pleasure for a period of 90 days or less. Please consult our visa pages for more information. Information about customs requirements is available from the U.S. Customs & Border Protection.
Travel Info
The U.S. does not operate a national tourist office in Germany for consumer tourist information. A number of tourist destinations, including individual state and territorial tourism offices, and regional Visitors Bureaus have representation in Europe. Regardless of where they are located, they are useful sources of information. Visit USA, a professional association of state governmental, non-profit and commercial organizations nonprofit group, works closely with German travel agencies.
See also > Frequently Asked Questions on Travel to the U.S.