Background
• America.gov: Music
• America.gov: American Popular Music (August 2008)
• American Classical Music Hall of Fame
• American Folklife Center (Library of Congress)
• American Gospel Music Directory
• American Roots Music (PBS)
• American Song: A Cultural and Historical Chronology (WNet New York)
• Arts in America: Music (IIP) CD
•Billboard
• The Blues (PBS)
• Classic Motown
• Country Music Hall of Fame
• Duke Ellington Centennial
• Essentials of Music (Sony)
• Evolution of Rap Music in the United States (Yale-New Haven Teachers Institute)
• Gospel Music Hall of Fame
• Grammys Online
• A History of America's Music: Jazz (PBS)
• International Bluegrass Music Association
• Jazz Age Chicago
• Jazz Web: Styles of Jazz (Northwestern University)
• OperaGlass (Stanford University)
• A Passion for Jazz
• PBS Arts - Music
• Performing Arts Encyclopedia (Library of Congress)
• Rap Dictionary
• Recording Industry Association of America (RIAA)
• Red Hot Jazz Archive - History of Jazz before 1930
• Rock 'n' Roll Hall of Fame
• Roughstock's History of Country Music
• Smithsonian Jazz Portal
• Year of the Blues 2003 (U.S. Congress Official Proclamation)

Original Documents
• Aaron Copland Collection (American Memory, Library of Congress)
• African-American Sheet Music 1850 - 1920 (American Memory, Library of Congress)
• American Choral Music, 1870-1923 (Library of Congress)
• Blues, Gospel and the Fort Valley Music Festivals 1938-43 (American Memory, Library of Congress)
• Changing the Beat - A Study of the Worklife of Jazz Musicians: Executive Summary, Vol.II, Vol.III (Research Center for Arts and Culture, 2003)
• Emile Berliner and the Birth of the Recording Industry (American Memory - Library of Congress)
• Historic American Sheet Music 1850 - 1920 (Duke University)
• Honky Tonks, Hymns and the Blues (National Public Radio)
• Leonard Bernstein Collection ca.1920-89 (American Memory - Library of Congress)
• Max Hunter Folk Song Collection (Southwest Missouri State University)
• Music for the Nation: American Sheet Music 1870-85 (American Memory, Library of Congress)
• NEA Jazz Masters 1982-2008 (National Endowment for the Arts)
• 19th-Century California Sheet Music: 1852-1900 (University of California, Berkeley)
• OLGA (Online Guitar Archive)
• Popular Songs in American History
• Smithsonian Folkways
• Song of America - I Hear America Singing (Library of Congress, Performing Arts Reading Room)
• Southern Mosaic-The John and Ruby Lomax 1939 Southern States Recording Trip (American Memory, Library of Congress)
• What is Jazz? (ArtsEdge Kennedy Center)
• Woody Guthrie and the Archive of American Folk Song: Correspondence 1940-50 (American Memory - Library of Congress)

Exhibits - Digital Images
• America's Jazz Heritage (Smithsonian)
• American Jazz Museum
• Delta Blues Museum
• Experience Music Project (EMP) Seattle
• Jazz Museum in Harlem
• Kansas City: Paris of the Plains - The Jazz Age 1920-40 (University of Missouri)
• Louis Armstrong (Satchmo Net)
• Museum of Musical Instruments: Woody Guthrie
• Photographs from the Golden Age of Jazz (American Memory, Library of Congress)
• Songwriters' Hall of Fame: Virtual Museum (National Academy of Popular Music)
• Swinging through Time: The Story of Detroit Jazz (Internet Public Library)
• Trail of the Hellhound: Delta Blues in the Lower Mississippi (National Park Service)
• Vaudeville Nation (New York Public Library)
• When Nixon Met Elvis (National Archives)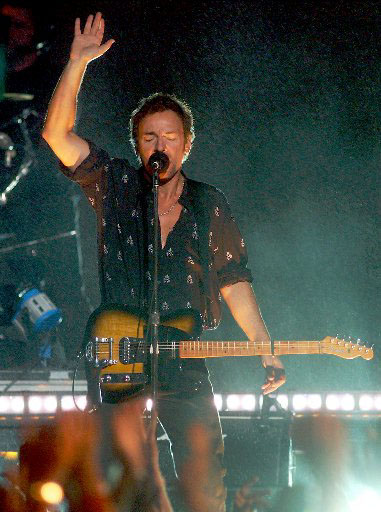 Bruce Springsteen performs "The Rising," a song written in response to the events of September 11, at the 2002 MTV Video Music Awards.
(AP/Wide World Photo)
The development of the arts in America has been marked by a tension between two strong sources of inspiration - European sophistication and domestic originality.
Blues is a native American musical and verse form, with no direct European and African antecedents of which we know. The slaves sang songs telling about their extreme suffering and privation. The blues was mostly sung in the South and only spread northward in the 1930s and 1940s with the migration of many blacks from the South. The 1920s saw the blues become a musical form more widely used by jazz instrumentalists.
Jazz originated in New Orleans early in the 20th century, bringing together elements from ragtime, slave songs, and brass bands. Jazz was the reigning popular American music from the 1920s through the 1940s. In the 1930s and 1940s, the most popular form of jazz was "big band swing," so called after large ensembles conducted by the likes of Glenn Miller and William "Count" Basie. In the late 1940s, a new, more cerebral form of mostly instrumental jazz, called be-bop, began to attract audiences. Rhythm & blues was a combination of jazz and other "race" music with the lyrical content, sonic gestures and format of the blues. The epoch of rhythm & blues spans the late 1940s to the early 1960s.
The melding of rhythm & blues with country and western music in the mid-1950s gave birth to rock and roll. To make the new music more acceptable to a mainstream audience, white performers and arrangers began to "cover" rhythm and blues songs - singing them with a toned down beat and revised lyrics. At the beginning of his career, Elvis Presley covered black singers. Soon, however, Presley was singing original material, supplied by a new breed of rock and roll songwriters.
A challenge to rock appeared in the form of folk music. Folk music was based largely on ballads brought over from Scotland, England, and Ireland; it had been preserved in such enclaves as the mountains of North Carolina and West Virginia. Bob Dylan extended the reach of folk music by writing striking new songs that addressed contemporary social problems, especially the denial of civil rights to black Americans. The division between the two camps - rock enthusiasts and folk purists - came to a head when Dylan was booed for accompanying himself on electric guitar at the 1965 Newport Folk Festival. Far from being deterred, Dylan led virtually the entire folk movement into a blend of rock and folk.
Like folk, country music descends from the songs brought to the United States from England, Scotland, and Ireland. The original form of country music, called "old-time" and played by string bands, can still be heard at festivals held each year in many southern states. Modern country music developed in the 1920s, roughly coinciding with a mass migration of rural people to big cities in search of work. Like many other forms of American pop music, country lends itself easily to a rock-and-roll beat, and country rock has been yet another successful music merger.
Due to its diversity, popular music in the United States today challenges simple description. The history of popular music since the 1970s is basically that of rock music, which has grown to include hundreds of musical styles. New styles such as folk, salsa, new wave, funk, reggae, heavy metal, acid rock, punk rock, rap, hip hop, acid jazz, techno, R&B and world music have developed.
Until the end of the 19th century, there really was no distinctive classical music, e.g. symphony, opera, chamber music, sonata etc., in America. As late as 1895, the composer Antonin Dvorak felt the need to urge American composers to look to their native sources for inspiration and material. He offered his "New World" Symphony (stirred by our spirituals and Indian rhythms) as an example of what could be achieved. With the advent of the 20th century, sparked by the immigrant urge to assimilate, isolationism, the excitement of jazz, and a "can-do" spirit, American composers started to create an astounding variety of distinctively American classical music. Composers such as George Gershwin and Aaron Copland incorporated homegrown melodies and rhythms into forms borrowed from Europe. Music composition of the greater part of the 20th century, especially the period after World War II, is characterized by experimentation and a constant search for new systems of writing music, new forms and new styles.