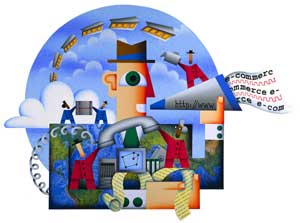 The first ingredient of a nation's economic system is its natural resources. The United States is rich in mineral resources and fertile farm soil, and it is blessed with a moderate climate. The second ingredient is labor, which converts natural resources into goods. The number of available workers and, more importantly, their productivity help determine the health of an economy. Labor-force quality continues to be an important issue. Today, Americans consider "human capital" a key to success in numerous modern, high-technology industries. As a result, government leaders and business officials increasingly stress the importance of education and training to develop workers with the kind of nimble minds and adaptable skills needed in new industries such as computers and telecommunications.

The United States is said to have a mixed economy because privately owned businesses and government both play important roles. The American free enterprise system emphasizes private ownership. Private businesses produce most goods and services, and almost two-thirds of the nation's total economic output goes to individuals for personal use (the remaining one-third is bought by government and business). The consumer role is so great, in fact, that the nation is sometimes characterized as having a "consumer economy."

This emphasis on private ownership arises, in part, from American beliefs about personal freedom. From the time the nation was created, Americans have feared excessive government power, and they have sought to limit government's authority over individuals -- including its role in the economic realm. In addition, Americans generally believe that an economy characterized by private ownership is likely to operate more efficiently than one with substantial government ownership.