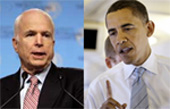 (AP images)

Presidential Candidates
Please note: This page has not been updated after the Elections on November 4, to better illustrate the election cycle that lead to the election of President Barack Obama.
When the next U.S. president takes the oath of office on January 20, 2009, he will be breaking new ground. Americans are poised to elect the first African-American president or the oldest U.S. president.
Republican John McCain and Democrat Barack Obama, both of whom are sitting senators, have unique experiences that they say have helped them to prepare for taking the office at the White House.
In their lives and political careers, they have distinguished themselves. But whose experience and character will make him or her the next president of the United States? And how important is the candidates ability to persuade potential voters?
After Barack Obama's A More Perfect Union speech there was wide agreement on the importance of the speech for his campaign. His speech, covering the history of race relations in America, came as an attempt to resolve the controversy associated with sermons from his pastor, Jeremiah Wright. Obama's rhetorical talents have had a great impact on the success of his campaign so far.
The designated Republican Presidential candidate, John McCain, call himself "a realistic idealist" who in his own words has been shaped by "hard experience and the judgment it informs." McCain reinforces his impressive biography with a "Service to America" speech tour to places associated with his own, and his family's, service to the United States.
Will the ability to inform, educate and inspire people be decisive in this year's presidential election?
See also:
About the USA > Government
About the USA > Government > Elections
About the USA > Regierung
About the USA > Regierung > Wahlen