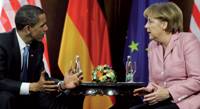 President Barack Obama and Chancellor Angela Merkel meet for bilateral talks in Baden-Baden, April 3, 2009 (© AP Photo)
The United States and Germany have built a solid foundation of bilateral cooperation in a relationship that has changed significantly over five decades. The historic unification of Germany and the role the United States played in that process have served to strengthen ties between the two countries.
German-American political, economic, and security relationships continue to be based on close consultation and coordination at the most senior levels. High-level visits take place frequently, and the United States and Germany cooperate actively in international forums.
U.S. policy toward Germany remains the preservation and consolidation of a close and vital relationship with Germany, not only as friends and trading partners, but also as allies sharing common institutions. During the 45 years in which Germany was divided, the U.S. role in Berlin and the large American military presence in West Germany served as symbols of the U.S. commitment to the preservation of peace and security in Europe. Since German unification, the U.S. commitment to these goals has not changed. Nearly 59,000 U.S. military personnel remain in Germany to protect these common interests. As allies in NATO, the United States and Germany work side by side to maintain peace and freedom.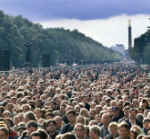 Over 200, 000 people gathered in front of the Brandenburg Gate in Berlin on September 14 to remember the victims of Tuesday's terrorist attacks in the United States. (AP/WideWorld Photos)
Following the September 11, 2001 attacks on the World Trade Center in New York City and the Pentagon in Washington, D.C., the United States and Germany have cooperated closely to combat international terrorism, for example in the areas of judicial cooperation, intelligence sharing and freezing the financial assets of suspected terrorists. This cooperation has shown tangible results and will continue.

Germany participated in Operation Enduring Freedom, the U.S. military operation launched in early October 2001 against the Taliban regime and against Al Qaeda strongholds in Afghanistan. Germany did not support the U.S. military operation in Iraq in March-April 2003. Chancellor Angela Merkel took office in November 2005 promising a foreign policy anchored in a revitalized transatlantic partnership.

Recognizing the importance of the German-American economic relationship, during Germany's six-month presidency of the European Union in 2007, Chancellor Merkel initiated the Transatlantic Economic Initiative to reduce and remove these barriers. Over the long term, the deep and mutually beneficial trade and investment relations between U.S. and German firms remain vital for both domestic and global economic growth. There are numerous opportunities for bilateral cooperation in the economic and commercial sphere, including multilateral trade negotiations, reducing agricultural protectionism and promoting economic global growth. German-American economic as well as political partnership has contributed to making reunification a success. Since reunification, U.S. foreign direct investment (FDI) in Germany has more than tripled while German investment in the U.S. is roughly seven times what is was when the Wall fell. After France, the United States is Germany's largest export market. The United States also is Germany's third largest supplier, and its principal trading partner outside the EU. Today, there are more than 3,000 German companies in the United States, with almost 670,000 employees; over 2,700 American companies in Germany provide 800,000 jobs. At least 1.5 million jobs and approximately 6,000 companies in both countries depend on our relationship.

The Merkel government has also sought to increase transatlantic cooperation in a range of other areas, including: climate change policy, global counterterrorism and non-proliferation policy, and peacekeeping, reconstruction and stabilization in Afghanistan, the Middle East, Africa, and the Balkans.
Source: Background Note on Germany. June 2009. U.S. Department of State
See also:
About the USA > German-Americans
About the USA > History of the United States > The 21st Century
About the USA > U.S. Government