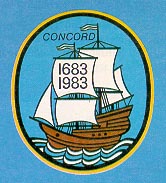 Logo of the German American Tricentennial Celebrations
The achievements and contributions of German-Americans have had a profound effect on making the United States the country it is today. Famous for their practical skills, thrift, hard work, interest in the arts, and enjoyment of good living they have left their mark indelibly on American culture and life. Only a few can be mentioned among the many who have played a special part in creating the German-American legacy.
German-Americans helped win and transmit the freedoms Americans enjoy today. The first great victory for freedom of the press in America occurred in 1735 when a jury found John Peter Zenger, a German-American printer and journalist, justified in criticizing the colonial government. A Philadelphia German- language newspaper was the first to report the Declaration of Independence.
General Friedrich Wilhelm von Steuben, a Prussian military officer, turned Washington's civilian soldiers into a disciplined force capable of defeating the British. Notable among many German-Americans who have shaped our military to meet later challenges were John J. Pershing, whose ancestral family name was Pfoerschin, and Dwight D. Eisenhower, a descendant of Hans Nikolas Eisenhauer. "Ike" also shared with Herbert Hoover the distinction of being one of the two Presidents of German descent.
Pennsylvania-German-built Conestoga wagons carried the pioneers westward, some armed with "Kentucky rifles," also made in Pennsylvania by Germans. A leading German-American wagon builder, Clement Studebaker, later produced the popular car that bore his name.
Brooklyn's famous bridge, a century-old American landmark, was designed and built by the visionary German immigrant engineer, John Roebling, and his son, Washington. It joined Brooklyn with Manhattan Island, bought from Indians by German-born Peter Minuit.
The roll call of German-American leaders in business and finance includes names like Astor, Boeing, Chrysler, Firestone, Fleischman, Guggenheim, Heinz, Hershey, Kaiser, Rockefeller, Steinway, Strauss (of-blue jeans fame), Singer (originally Reisinger), Sulzberger, Wanamaker, and Weyerhaueser. And other famous names, such as Einstein, Bausch, Lomb, Mergenthaler, Steinmetz, Westinghouse, and Wernher von Braun helped give America preeminence in science and technology.
In sports there have been such memorable figures as baseballers Honus Wagner, Babe Ruth, Lou Gehrig, and Casey Stengel, and swimming champions Gertrude Ederle and Johnny Weissmuller. In literature, Theodore Dreiser, John Steinbeck, Thomas Mann, Kurt Vonnegut and the inimitable "Dr. Seuss" (Theodor Seuss Geisel), author of forty-four children's books. In journalism, Thomas Nast, the German-born cartoonist who created the popular images of Uncle Sam and Santa Claus and gave us the donkey and elephant symbols for our major political parties, Rudolf Dirks, creator of the beloved "Katzenjammer Kids", Charles Schulz of "Peanuts" fame, Adolph Ochs, H. L. Mencken, and Walter Lippman.
From music have come - beside the piano- and organ-makers, Steinway, Knabe, and Wurlitzer -- Leopold and Walter Damrosch, Bruno Walter, John Philip Sousa, Oscar Hammerstein, Paul Hindemith, Arnold Schoenberg, and Kurt Weill. And from the theatre a succession of gifted playwrights, directors and performers, among them Bertolt Brecht, Ernst Lubitsch, Eric von Stroheim, Fritz Lang, Otto Preminger, Billy Wilder, and the inimitable Marlene Dietrich.
The visual arts have also benefited from German genius. Painters of German birth or descent from the nineteenth century include Emanuel Leutze, best known for his classic work 'Washington Crossing the Delaware', and Albert Bierstadt, who captured on canvas the majestic beauty of the American West. Notable in our own times have been Max Beckmann, Hans Hofmann, George Grosz, Lyonel Feininger, Josef Albers, Roy Lichtenstein, Robert Rauschenberg, and the great critic, Erwin Panofsky.
Two giants of the art of photography -- Alfred Stieglitz and Alfred Eisenstaedt -- were also German-Americans. And American architecture has been enormously influenced by German emigres Walter Gropius and Mies van der Rohe.
And for the thirsty millions from every walk of American life, the names Stroh, Schaefert Schlitz, Miller, Pabsto Anheuser- Busch, Budweiser, and Coors are synonyms for beer brewed in the German-American tradition.
Yet, to mention noted German-Americans and their achievements is only one way of suggesting the magnitude of the debt to the millions of others who have helped create and enrich the American way of life. Ordinary German-Americans of the past three centuries became a major part of the population, dispersed themselves widely across the land, and fully accepted and embodied the ideals that have become characteristic of American society.
In tribute to all of these -- the great, near-great, and "common folk" alike -- the Congress, by joint resolution and the President by proclamation joined in declaring 1983 the "Tricentennial Anniversary Year of German Settlement in America." Congress noted "the immeasurable ... contributions to this country by millions of German immigrants over the past three centuries."
{Excerpt: German-American Tricentennial. Final Report to the President and the Congress of the United States, 1985.]
Today, the descendants of those early German immigrants number nearly 43 million according to the 2000 United States government census. Germans are the nation's largest ancestry group, representing about 15 percent of the U.S. population