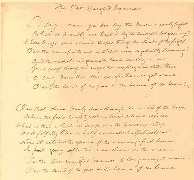 "Oh, say, can you see, by the dawn's early light,
What so proudly we hailed at the twilight's last gleaming?
Whose broad stripes and bright stars, thro' the perilous fight'
O'er the ramparts we watched, were so gallantly streaming."
During the night of September 13, 1814, the British fleet bombarded Fort McHenry in the harbor at Baltimore, Maryland. Francis Scott Key, a 34-year old lawyer-poet, watched the attack from a deck of a British prisoner-exchange ship. He had gone to seek the release of a friend but they were refused permission to go ashore until after the attack had been made. As the battle ceased on the following morning, Key turned his telescope to the fort and saw the American flag was still waving. The sight so inspired him that he pulled a letter from his pocket and began to write the poem which eventually was adopted as the national anthem of the United States - "The Star Spangled Banner."