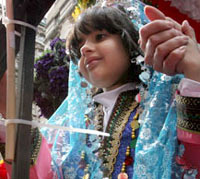 Child dressed in traditional Northern Iranian outfit rides down New York's Madison Avenue in the Persian Day Parade. (© AP Images)
The United States is a nation of many religions and ethnic groups. Many of these have feast days, holy days or special customs related to their religion or to their nation of origin.
People of both the Jewish and Moslem faiths, for example, observe all of their traditional holy days, with employers showing consideration by allowing them to take days off so they can observe their traditions.
Some customs which hark back to traditions of other countries lend a great deal of color to American life. The celebration of Mardi Gras - the day before the Christian season of Lent begins in late winter - is a tradition in New Orleans, a major southern city located in the state of Louisiana. The celebration, marked by a huge parade and much feasting, grew out of old French traditions, since Louisiana was once part of France's New World empire. In various places, other ethnic groups sponsor parades or other events of great interest, adding pageantry and merriment to American life. Just a few examples:St. Patrick's Day in the United States is a time of celebration for people of Irish descent and their friends. One of the biggest celebrations takes place in New York City, where a parade is held on the Irish patron saint's feast, March 17.In areas where Americans of Chinese descent live, and especially in the Chinatown sections of New York City and San Francisco, California, people sponsor traditional Chinese New Year's celebrations with feasts, parades and fireworks. "Octoberfest" featuring German music, dancing and food are held wherever large groups of German-Americans live.
African Americans have begun to observe Kwanzaa, a holiday based on the African celebration of the first harvest of the year, December 26 through January 1. Developed in 1966, by a black studies professor at California State University, Maulana Karenga, Kwanzaa celebrates the unity and development of the African community. Founded upon the "Nguzo Saba," or the seven principles of unity, self-determination, collective work and responsibility, cooperative economics, purpose, creativity and faith, Kwanzaa encourages African Americans to think about their African roots in addition to their present-day life in America. African Americans will exchange gifts as rewards for their achievements; and they will light the "Mishumaa Saba" or seven candles to remind them of the seven principles which unite them.
Cinco de Mayo Shows Americanization of Mexican Holiday. By Lauren Monsen
When the Cinco de Mayo ("Fifth of May") holiday is observed in the United States, the annual festivity honors the Mexican heritage of a growing number of U.S. citizens, with a focus on Mexico's distinctive cuisine, folk dances, colorful costumes and mariachi music.What many celebrants might not realize is that the holiday has evolved significantly over the years, often bearing little trace of its origins. Cinco de Mayo is not, as some believe, Mexico's Independence Day, which is September 16. The holiday commemorates the victory of outnumbered and largely indigenous Mexican forces over the French army at the Battle of Puebla in 1862, following a tumultuous period in Mexico's history.... (America.gov, May 4, 2010)
Iranian Americans Observe Persian New Year Traditions. By Afzal Khan.
Hundreds of thousands of Iranian Americans -- and other immigrants from neighboring countries that were once part of the Persian Empire -- are celebrating Nowrouz, the Persian New Year, on March 20 with rituals that go back thousands of years. (America.gov, March 17, 2009.)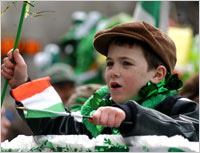 Thomas Borum, 6, rides on top of a float in the Saint Patrick's Day Parade in Wilkes-Barre, Pennsylvania. (© AP Images)
U.S. Cities Strike Up the Band for St. Patrick's Day Parades
Americans celebrate with green rivers, green streets, flying produce
St. Patrick's Day offers the Irish and non-Irish alike the opportunity to celebrate 'Irishness' in a variety of ways -- some authentic, some innovative, some downright tacky -- but none has proved more widespread or enduring than the annual parade.
(Washington File, March 8, 2008)

For U.S. Muslims, Ramadan Is Reminder To Help Local Communities
The sacred month of Ramadan, observed by Muslims worldwide, is a time of spiritual renewal, with a strong focus on performing good deeds and deepening ties with neighbors and local communities.
The evening meal, known as iftar and held after sundown to break the Ramadan fast each day, often is a communal affair at mosques across the United States. Iftars also are hosted by most Muslim organizations in America, including those in the nation's capital.
At the Muslim Community Center (MCC) in Silver Spring, Maryland, iftars 'are open to the public,' says MCC President Nehal Shah. The All Dulles Area Muslim Society (ADAMS) Center, which has seven branches throughout northern Virginia, shares this approach. (Washington File, September 19, 2007.)