The Reverend Dr. Martin Luther King, Jr. was a black clergyman who is ranked among the greatest of black Americans because of his crusade to win full civil rights for his people. Preaching nonviolence, much in the same way as had Mahatma Gandhi of India, Martin Luther King, Jr. spoke and campaigned tirelessly to rid the United States of traditions and laws that forced on black Americans the status of second-class citizens. Among these laws were those in some states which required black people to take back seats in buses or which obstructed voting by blacks.
In the late 1950s and early 1960s, African Americans, led by Dr. Martin Luther King, Jr., used boycotts, marches, and other forms of nonviolent protest to demand equal treatment under the law and an end to racial prejudice. A high point of this civil rights movement came on August 28, 1963, when more than 200,000 people of all races gathered in front of the Lincoln Memorial in Washington, D.C., to hear King say: "I have a dream that one day on the red hills of Georgia the sons of former slaves and the sons of former slaveholders will be able to sit down together at the table of brotherhood....I have a dream that my four little children will one day live in a nation where they will not be judged by the color of their skin, but by the content of their character."

A young boy rides on a float during the Martin Luther King Jr. Day parade.
(© AP/WWP)
Not long afterwards the U.S. Congress passed laws prohibiting discrimination in voting, education, employment, housing, and public accommodations. The world was shocked when Dr. King was assassinated in 1968. Ever since, special memorial services have marked his birthday on January 15. By vote of Congress, the third Monday of every January, beginning in 1986, is now a federal holiday in Dr. King's honor.
See also:
About the USA > Society > African Americans
About the USA > U.S. History > Decades of Change
Martin Luther King and the Challenges of a New Age
Remarks by the President in Remembrance of Dr. Martin Luther King, Jr. at Vermont Avenue Baptist Church, Washington, DC, January 17, 2010.
Americans Celebrate Achievements of Martin Luther King Jr.
Americans on each third Monday of January honor the life and achievements of the Rev. Martin Luther King Jr., (1929 -1968), the 1964 Nobel Peace laureate and the individual most associated with the triumphs of the African-American civil rights movement during the 1950s and 1960s. As a political organizer, supremely skilled orator and advocate of nonviolent protest, King was pivotal in persuading his fellow Americans to end the legal segregation that prevailed throughout the South and parts of other regions, and in sparking support for the civil rights legislation that established the legal framework for racial equality in the United States. (America.gov, January 15, 2010)
Martin Luther King's Dream Lives on 40 Years After His Death. By Michael Friedman.
On April 4, 1968, in Memphis, Tennessee, an assassin's bullet took the life of Martin Luther King, the main architect and the leader of the nonviolent civil rights movement in the United States. He was 39 years old. The medical examiners said King died with the heart of a 60-year-old, because he had for so long carried the burden of so many. Some 100,000 Americans stood outside the church at the time of his funeral. (America.gov, 31 March 2008.)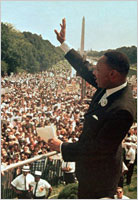 Dr. Martin Luther King Jr.
acknowledges the crowd at the
Lincoln Memorial for his "I Have a Dream" speech. (© AP Images)
Martin Luther King's Dream of Racial Equality
"I Have a Dream" speech riveted crowd at 1963 March on Washington
It was a march and a speech that the world cannot forget. August 28, 1963, an estimated 250,000 people marched to the Lincoln Memorial in Washington where they heard Martin Luther King Jr. give a speech of unsurpassable eloquence. Known ever since from its "I Have a Dream" passages, the speech gave impassioned voice to the demands of the U.S. civil rights movement -- equal rights for all citizens, including those who were born black and brown. (America.gov, 17 January 2008.)
Martin Luther King Jr. Memorial Draws Visitors Worldwide
"It's not just black people and not just Americans who come here," says a spokesperson for the National Park Service. "This site pulls in visitors from all over the world. People come not just on his birthday, but really all year long." The place is the Martin Luther King Jr. National Historic Site on famed Auburn Avenue just up the street from the renowned Ebenezer Baptist Church where the civil rights leader often preached. The memorial is located in the heart of one of Atlanta's oldest African-American neighborhoods. ... (America.gov, March 3, 2001)