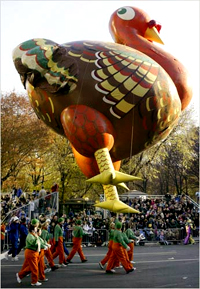 Macy's Thanksgiving Day Parade balloon Tom Turkey enters New York's Columbus Circle, November 27, 2003. (© AP Images)
Thanksgiving Day is the fourth Thursday in November, but many Americans take a day of vacation on the following Friday to make a four-day weekend, during which they may travel long distances to visit family and friends.
The holiday dates back to 1621, the year after the Puritans arrived in Massachusetts, determined to practice their dissenting religion without interference. After a rough winter, in which about half of them died, they turned for help to neighboring Indians, who taught them how to plant corn and other crops. The next fall's bountiful harvest inspired the Pilgrims to give thanks by holding a feast.
The Thanksgiving feast became a national tradition -- not only because so many other Americans have found prosperity but also because the Pilgrims' sacrifices for their freedom still captivate the imagination.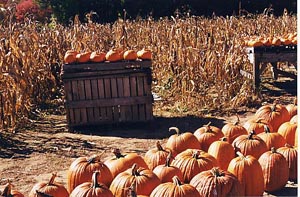 Photo by Patricia Walsh for the U.S. Census Bureau
To this day, Thanksgiving dinner almost always includes some of the foods served at the first feast: roast turkey, cranberry sauce, potatoes, pumpkin pie. Before the meal begins, families or friends usually pause to give thanks for their blessings, including the joy of being united for the occasion.
see also:
About the USA > U.S. History > The Colonial Period
About the USA > Society > Native Americans
Thanksgiving Day a Time for Reflection, Gratitude, Sharing
American tradition rooted in 1621 New England harvest celebration
Thanksgiving Day in the United States is possibly the premier U.S. family celebration — typically celebrated at home or in a community setting and marked with a substantial feast. Thanksgiving provides an occasion for reunions of friends and families, and it affords Americans a shared opportunity to express gratitude for the freedoms they enjoy as well as food, shelter and other good things. (America.gov, November 23, 2009)
Thanksgiving Holiday is a Reminder to Americans to Help Others. By Louise Fenner
On Thanksgiving Day, when most Americans enjoy a holiday meal with friends and family and give thanks for the good things in their lives, many also take time to prepare and serve meals to the needy. Others donate to food drives, work at food warehouses or deliver groceries to soup kitchens, churches and other charitable groups. (America.gov, November 24, 2009.)
Thanksgiving Is a Time for Tradition and Sharing
Thanksgiving in the United States is possibly the premier U.S. family celebration, typically celebrated at home and marked with a substantial feast. As the anchor of what is for many a four-day holiday weekend, Thanksgiving provides an occasion for family reunions, marks the beginning of the 'holiday season' that continues through Christmas and New Year's Day and, as its name suggests, affords Americans a shared opportunity to express their gratitude for plentiful food and general abundance. (Washington File, November 14, 2005 Updated: November 21, 2007)