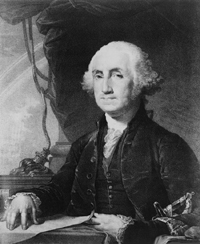 Portrait of George Washington. Created/Published : c1828 by Pendleton's Lithography. Housed in the Prints and Photographs Division of the Library of Congress

Auf nationaler Ebene heisst der Feiertag, der am dritten Montag im Februar begangen wird, Washington's Birthday. Aber viele Amerikaner glauben, dass dieser Feiertag "Presidents' Day" heisst und beide Präsidenten, Washington und Lincoln, ehren soll, deren Geburtstage der 22. bzw. 12. Februar waren.
1968 verabschiedete der Kongress den "Monday Holiday Act", der den Feiertag Washington's Birthday vom 22. Februar auf den dritten Montag im Februar verlegte. Einige Reformer hatten auch versucht, den Feiertag in "Presidents' Day" umzubenennen, was aber im Kongress scheiterte, so dass es bei dem offiziellen Namen "Washington's Birthday" blieb.
Als aber das Gesetz 1971 in Kraft trat, erklärte Präsident Nixon den Feiertag zum "Presidents' Day" um alle früheren Präsidenten zu ehren, nicht nur Lincoln und Washington. Diese Idee war vom Kongress nicht geplant und authorisiert, aber trotzdem fand sie im Bewusstsein der Bevölkerung weite Verbreitung.
Obwohl einige Bundesstaaten "Presidents' Day" zum Feiertag deklariert haben, wurde er nicht als gesetzlicher Feiertag anerkannt. Auf nationaler Ebene bleibt der dritte Montag im Februar offiziell "Washington's Birthday".
Die Missverständnisse und Verwirrungen, die diesen Feiertag umgeben, werden in einem Artikel in der Zeitschrift Prologue, einer Veröffentlichung der National Archives and Records Administration, erklärt: "By George, IT IS Washington's Birthday!" in Prologue, Winter 2004
Siehe auch:
About the USA > Geschichte
About the USA > US-Regierung > Die Exekutive