Background
• A Brief History of the U.S. Army in World War II
• Casablanca Conference, Demand for "Unconditional Surrender", 1943 CD
• European Theater of Operations.
• Der Morgenthau-Plan
• The U.S. Army in the Occupation of Germany 1944-1946
• World War II Experiences of Staff Sergeant Albert R. Panebianco
• Yalta Conference

Teacher Resources
• Germany and America in the 20th Century A Hypertext Timeline
• The Last Days of WWII: The Spoils of War
• The Last Days of WWII: Death of the Reich
• The Net's Educational Resource Center, World War II
• Teaching With Documents: "A Date Which Will Live In Infamy": The First Typed Draft of Franklin D. Roosevelt's War Address
• The World War II - Holocaust
• WORLD WAR II

Original Documents
• Declaration Regarding the Defeat of Germany and the Assumption of Supreme Authority by Allied Powers CD
• Documents on WWII
• Documents Related to WWII
• FDR Library and Digital Archives: German Diplomatic Files
• The German Surrender Documents of World War II
• JCS 1067, Directive of Occupation, 1945 CD
• Memorandum to the President, 10. January, 1945. Henry Morgenthau's plan for Germany after the War
• Presidential Proclamation on the Surrender of Germany, 1945 CD
• Telegram by Franklin D. Roosevelt to Adolf Hitler, 1939 CD
• U.S. Declaration of War against Germany, 1941 CD
• Yalta Conference, 1945 CD

Biographies
• Omar Bradley, Commander, U.S. 1st Army Europe
• Dwight D. Eisenhower, Supreme Commander, Allied Expeditionary Force | Deutsch
• George C. Marshall, Army Chief of Staff | Deutsch
• Henry Morgenthau, U.S. Secretary of the Treasury (1934-1945)
• George S. Patton, Jr, Commander, U.S. 3rd Army Europe
• Franklin D. Roosevelt, U.S. President (1933-1945) | Deutsch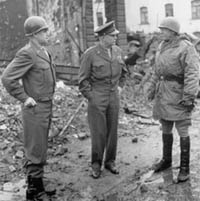 Bradley, Eisenhower and Patton
Neutrality was the official American response up to the outbreak of war in Europe in 1939. Legislation, enacted from 1935 to 1937, had prohibited trade with or credit to any of the warring nations. With the fall of France and the air war against Britain in 1940, the debate intensified between those who favored joining the war affort and the isolationists. The United States joined Canada in a Mutual Board of Defense, and aligned with the Latin American republics in extending collective protection to the nations in the Western Hemisphere. Congress voted immense sums for rearmament and in early 1941 approved the Lend-Lease Program, which enabled President Roosevelt to transfer arms and equipment to any nation (notably Great Britain, the Soviet Union and China) deemed vital to the defense of the United States. By 1941, there was an undeclared war between the United States and Germany in the Atlantic -- with U.S. warships protecting supply convoys from attacks by German submarines.
On December 7, 1941, the Japanese bombed the U.S. Pacific fleet at Pearl Harbor, Hawaii. On December 8, Congress declared a state of war with Japan; three days later its allies, Germany and Italy, declared war on the United States.
The western Allies decided that their essential military effort was to be concentrated in Europe. As a result of Germany's strong land forces, however, Great Britain and the United States postponed a cross-channel attack until June 1944. On D-Day, June 6, 1944, Allied forces landed in Normandy. On August 25, Paris was liberated. By February and March 1945, troops advanced into Germany and on May 7, Germany surrendered.
The Allies insisted on an unconditional surrender. Roosevelt also considered, but then backed away from, the enactment of the 1944 Morgenthau Plan which envisaged the permanent dismemberment of Germany and the destruction of all heavy industry.
See also:
About the USA > History of the United States - World War II (1941 - 1945)