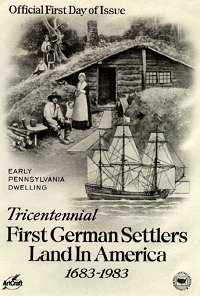 Postal Commemorative Society, 1983. German Immigration Tricentennial: First German Settlers Land in America
1683-1983
Immigration
German immigration began in the 17th century and continued into the late 19th century at a rate exceeding that of any other country. Working with William Penn, Franz Daniel Pastorius established "Germantown" near Philadelphia in 1683. German immigrants in this early period came from the states of Pfalz, Baden, Wuerttemberg, Hesse, and the bishoprics of Cologne, Osnabruck, Muenster, and Mainz.
At the beginning of the 18th century, economic problems in Germany brought a new wave of immigrants. Nearly one million German immigrants entered the United States in the 1850s; this included thousands of refugees from the 1848 revolutions in Europe. In these later phases of German immigration, newcomers joined established settlers. This phenomenon of "chain migration" strengthened the already existing German regions in the United States. Today, approximately 58 million Americans claim German ancestry. They are most numerous in California, followed by Pennsylvania, Ohio, Illinois, and Texas. The most dense German-American populations are in the "German belt" -- Wisconsin, Minnesota, North Dakota, South Dakota, Nebraska, and Iowa.
Politics & Government
German-American political participation was more focused on involvement in the labor movement than in government. Germans in America had a strong influence on the labor movement in the United States. Labor union membership enabled German immigrants to improve working conditions and to integrate in American society as a whole. Originally strong in such occupations as baking, carpentry, and brewing, they were also laborers, farmers, musicians, and merchants.
The first and most prominent German figure in American politics was Carl Schurz. He was influential in the election of Abraham Lincoln, served as ambassador to Spain, became a general in the Civil War, later was elected U.S. senator from Missouri, and finally was appointed Secretary of the Interior under President Rutherford Hayes.
Foreign Relations
Relations between the United States and Germany in the 19th century focused chiefly on immigration and commerce. On the whole, the main interest of the United States was to maintain the continental equilibrium of power -- political relations were of secondary importance. The United States was often represented only indirectly through the diplomacy of Great Britain and France. After 1871, as a unified Germany became a more dominant power in European politics, the relationship encountered some frictions as a result of naval and economic rivalries.
See also:
About the USA > History of the United States
About the USA > German-Americans - Genealogy