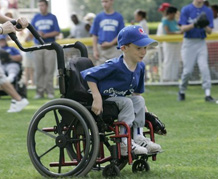 Little League Challengers of Williamsport, Pa., at the White House. July 2005.
According to the 2000 U.S. Census, there are 49.7 million Americans over the age of four with a disability. That represents 19 percent of the population. Among that 19 percent, 14.3 million Americans have a mental disability and 2.2 million say they use a wheelchair. Depending on community offerings and the ability of each athlete, sports as diverse as hockey, horseback riding, rock climbing, scuba diving, cycling, water skiing, rugby, soccer, basketball, and many, many other sports are available to disabled athletes.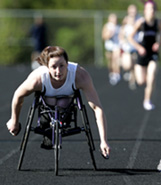 Wheelchair athlete Tatyana McFadden pulls ahead as she races in her first track meet with able-bodied high school runners. April 2006.
(AP Photo/Chris Gardner)
Three pieces of federal legislation have opened doors in all aspects of life for people with disabilities in the United States. The Rehabilitation Act, adopted in 1973, was the first major initiative in this regard. The main purpose of the Act was to prevent discrimination in employment, transportation, and education programs that received federal funding. Sports programs were not the focus of the Act, but the law says that colleges and universities that receive federal funding for their physical education programs, including intramural and interscholastic sports, must make them accessible to disabled persons.
The most recent pieces of federal legislation aimed at ending discrimination against persons with disabilities were enacted in 1990. The Individuals with Disabilities Education Act (IDEA) governs the education of students with disabilities in the public schools. IDEA states that physical education is a required educational service; thus the law facilitates participation of students with disabilities in public school and interscholastic sports programs. The Americans with Disabilities Act (ADA) is a comprehensive law that bans discrimination against persons with disabilities, specifically in "places of exercise." The ADA goes further than the previous laws and says that school, university, and community sports programs all must comply with ADA provisions.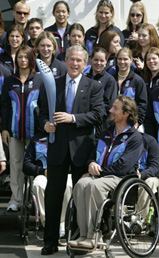 Paralympic Gold Medal winner Chris Devlin-Young presents President Bush with an Olympic Torch. May 17, 2006. (AP Photo/Pablo Martinez Monsivais)
The International Paralympic Games offer a venue in which to showcase the talents and abilities of the world's most elite athletes with physical disabilities. The multi-sport Paralympic Games are the second largest sporting event in the world, second only to the Olympics. The Paralympics receive more television and general press coverage throughout Europe than they do in the United States but the U.S. Paralympic Committee aims to change that. U.S. Paralympics is a division of the U.S. Olympic Committee and was created in May 2001 to focus efforts on enhancing opportunities for persons with physical disabilities to participate in Paralympic sports.
Special Olympics is perhaps the best-known organization for athletes with developmental disabilities. Special Olympics offers children and adults with mental retardation the opportunity to train and compete in 26 Olympic-type summer and winter sports.
Seeing disabled athletes competing alongside able-bodied athletes in the same events changes the public's perception of persons with disabilities. However, despite better awareness of disabilities and the three federal laws enacted to end discrimination, not all event sponsors welcome disabled athletes with open arms. According to news accounts, the New York City Road Runners Club, hosts of the New York City Marathon (NYCM), have never made it easy for people with disabilities to participate in the race. Advocates for the disabled say the welcome mat seems to get smaller each year. After years of controversy and struggles, wheelchair racers won a court decision against NYCM that required organizers to provide an early start for wheelchair racers.
Not all athletes strive to participate in competitions. The majority competes for exercise, for enjoyment, or to achieve personal goals. But an extra measure of creativity and innovation is usually required to enable disabled athletes to play and compete. Fortunately, today there are hundreds, maybe thousands, of examples of individuals who, in one way or another, have contributed to making participation in sports possible for persons with disabilities.