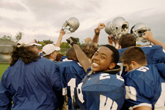 High school football team. U.S. Census Bureau.
American football is a distinct type of football that developed in the United States in the 19th century from soccer and rugby. It requires teams to run, throw and kick an oval ball across a 100-yard field (91.4 meters), is unrelated to the game most of the world knows by that name, and which Americans call soccer. And even the American game has variants, as there are slightly different rules for the versions played by college teams, professional teams and Canadian Football League teams.
Football is played by school, college and professional teams and is one of the most popular American sports, attracting thousands of participants and millions of spectators annually. American football was made popular by teams representing colleges and universities.
For some of its history, professional American football was played within a single National Football League (NFL), although rival leagues did spring up as the game grew in popularity and the lure of television dollars emboldened competitors. In 1960, one such rival league, the American Football League (AFL) competed for premier talent. As the leagues contemplated a merger, they agreed to a single game each year between their respective champions. Because many collegiate football championships were known as "bowls" for the bowl-shaped stadiums that hosted them, one AFL owner referred to the new game as a "super" bowl. The name proved popular with the public.
The Super Bowl is the final contest of the NFL's season. Each year, on a Sunday at the end of January or beginning of February, tens of millions of Americans declare their own unofficial holiday. Americans increasingly have gathered in private Super Bowl parties, where they enjoy food, drink and televised football. An estimated 130 million to 140 million viewers - nearly half of the U.S. population - will tune in to some part of the game. Four of the 10 most watched programs in U.S. history have been Super Bowls.