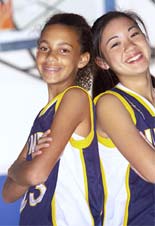 Women's sports have changed dramatically on so many levels in recent decades. The dramatic floodtide of talented women athletes onto American playing fields – and the opportunities that came along with them – no doubt benefited from the women's movement of the late 1960s and 1970s, with its emphasis on self-empowerment at every level. But the true impetus was Title IX, the landmark U.S. Government legislation signed by President Richard Nixon in 1972 that guaranteed equal rights for girls and women in every aspect of education, including athletics
Title IX has had a marked impact on overall academic educational achievement in the United States. It has also leveled the playing fields of America's schools. Title IX bans unfair treatment based on sex in any program of a school receiving money from the federal government. Schools and universities lose government aid if their sports programs do not treat men and women equally.
Title IX has helped girls and women participate in interscholastic and intercollegiate athletics in far greater numbers than they had in the past. Just one year before the enactment of Title IX, in 1971, a Connecticut judge was allowed by law to disallow girls from competing on a boys' high school cross country team even though there was no girls' team at the school. And that same year, fewer than 300,000 high school girls played interscholastic sports. Today, that number is 2.4 million. Today in the U.S. over one-third of all female students in high school play sports, and the number of women participating in university sports has tripled. Women now compete in almost every sport, whether the competition is team, individual, or mixed gender.
Girls and women also are increasingly participants in sports that have traditionally been seen as out of bounds for women, including soccer, ice hockey, lacrosse, wrestling, and rugby. In one sport that is more and more a favorite for young girls -- soccer-- the results led to a World Cup championship in 1999 and Olympic medals. Players like Mia Hamm and Brandi Chastain have helped make the sport more popular.
Many people say women's professional tennis has become more interesting than men's tennis. More people watch the women's games on television than the men's games. One sports commentator said, "The women are not only good players. They are also very interesting people."