Background
• G8 Information Centre
• Deutsch-amerikanische Beziehungen.

Teacher Resources
• The Role of NATO
• Post-Wall Germany: Integrating Post-Unification German Culture into the High School Classroom

Original Documents
• 50th Anniversary of the Berlin Airlift. Deputy Secretary of Defense John Hamre. July 23, 1998 | Deutsch CD
• Address to the People of Berlin. President Clinton. Berlin, July 12, 1994 | Deutsch CD
• The Balkans (DoS Archive)
• Clinton White House Virtual Library
• Commemorative Event for the 50th Anniversary of the Marshall Plan. President Clinton. The Hague, May 28, 1997 |Deutsch CD
• Creating New Opportunities in Transatlantic Relations. Ambassador John Kornblum, May 8, 1998 | Deutsch CD
• Developing a New, Comprehensive Relationship With Europe
• Germany 2000: An Assessment. Ambassador John Kornblum, March 30, 2000 | Deutsch CD
• Holocaust Issues (DoS Archive)
• A New Atlantic Community for the 21st Century. Secretary of State Warren Christopher. Stuttgart, September 6, 1996 | Deutsch CD
• North Atlantic Treaty Organization (DoS Archive)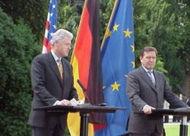 President Clinton &
Chancellor Schröder
The nineties were characterized on the one hand by anniversaries of historical events and on the other hand by new challenges marking the beginning of the new millennium. In 1995 the end of World War II was commemorated. In 1996 the 50th anniversary of the Marshall Plan and the famous speech by Secretary of State Byrnes in Stuttgart were celebrated. Other anniversaries like the Berlin Airlift, the introduction of the D-Mark, the famous speech by Secretary of State George C. Marshall, the founding of the Federal Republic of Germany and the signing of the Basic Law were observed.
The nineties saw the end of the Cold War era. The changed political situation in Germany and in the countries in Central and Eastern Europe put the German-American relationship in a new context which includes a Europe united in peace and democracy. Important steps taken to realize this vision are the integration of the countries of Central and Eastern Europe into NATO, European Union and OSCE.
Many challenges confronting the United States and Germany are similar. Challenges in the field of domestic politics include social security reform, education reform and immigration policy.
Globalization, the Internet, liberalization of the telecommunication market, space research, higher education represent economic and technical challenges which face both countries. This broad range of challenges increase the possibilities for intensive cooperation.