Background
• America's Role in Nation-Building: From Germany to Iraq
• The American Impact on Western Europe: Americanization and Westernization in Transatlantic Perspective
• Berlin Airlift, Berlin Airlift Veterans Association
• Das war RIAS BERLIN
• Deutsch-amerikanische Beziehungen
• Document on the Berlin Airlift CD
• Entstehung zweier deutscher Staaten
• Garrick Utley: John McCloy and the "Splendid Reconciliation", from: A Vision Fulfilled | Deutsch CD
• Der Marshallplan - Selling Democracy
• The Marshall Plan
• Oral History and Postwar German-American Relations: Resources in the United States
• USAREUR Military History Office
• Voices from the U.S. Mission - Joachim von Elbe, from: A Vision Fulfilled | Deutsch CD
• Voices from the U.S. Mission - Tom Tuch, from: A Vision Fulfilled | Deutsch CD

Exhibits - Digital Images
• For European Recovery: The Fiftieth Anniversary of the Marshall Plan

Teacher Resources
• Berlin and the Two Germanies, 1945-1989 | Student Exercises
• The Berlin Airlift
• The Berlin Airlift: The First Battle of the Cold War
• Blockade und Luftbrücke 1948/49
• Brave New World
• Establishing the Marshall Plan, 1947-48
• Germany and America in the 20th Century A Hypertext Timeline
• Harry Truman and the Potsdam Conference
• The Last Days of WWII: Justice at Nuremberg
• Lehrerinformationen - Ein Rundgang durch die Dauerausstellung im Alliertenmuseum
• The Role of NATO
• The Truman Doctrine and the Beginning of the Cold War, 1947-49


Original Documents
• Declaration Regarding the Defeat of Germany and the Assumption of Supreme Authority by Allied Powers CD
• Documents on WWII
• Documents Related to WWII
• FDR Library and Digital Archives: German Diplomatic Files
• The German Surrender Documents of World War II
• JCS 1067, Directive of Occupation, 1945 CD
• Memorandum to the President, 10. January, 1945. Henry Morgenthau's plan for Germany after the War
• Presidential Proclamation on the Surrender of Germany, 1945 CD
• Telegram by Franklin D. Roosevelt to Adolf Hitler, 1939 CD
• U.S. Declaration of War against Germany, 1941 CD
• Yalta Conference, 1945 CD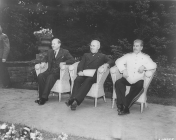 Attlee, Truman and Stalin
at the Potsdam Conference, 1945
Four zones of occupation -- controlled by the United States, Great Britain, France, and the Soviet Union -- were established at the end of the war. Disagreements about the joint administration of these zones and the political and economic management of Germany were principal causes of the Cold War. The Soviet Union controlled Eastern Europe. The Russian zone in Germany later became the German Democratic Republic.
U.S. occupation policy was characterized by programs to eliminate all traces of Nazi influence, introduce democratic institutions, and assure that German industry was used only for peaceful purposes. The International Military Tribunal at Nuremberg charged 24 former Nazi leaders with the perpetration of war crimes and various groups with criminal actions.
On June 5, 1947, Secretary of State George C. Marshall laid the foundation for a U.S. program of assistance to the countries of Europe. His long-sighted proposal was a major factor in the reconstruction of Germany in the aftermath of World War II and in the establishment of stability and prosperity in Europe.
In June 1948, the Soviets sealed off West Berlin. Through their control of the surrounding countryside, the Soviets halted all traffic into the city, cutting off food and supplies. The United States and Great Britain took to the skies and began flying in provisions for West Berlin's 2.2 million residents, an effort that lasted 322 days. At midnight on May 12, 1949, the Soviets capitulated and reopened land and water routes into Berlin. The western powers responded with a massive airlift of food and fuel (now known as the Berlin Airlift) until the Soviets lifted the blockade in May 1949.
In May 1949, the Federal Republic of Germany was established. Bonn was chosen as a provisional capital, and the former military governors became high commissioners. The new German government, led by Chancellor Konrad Adenauer, agreed to make a military contribution to the Western defense effort. The new German state was granted a fuller measure of sovereignty in 1955 when it joined the joined the North Atlantic Treaty Organization (NATO). At that time, the high commissioners became ambassadors. The Western powers reserved, however, the four-power rights to negotiate all issues relating to Berlin and Germany as a whole.
U.S. policy in postwar Germany focused on two separate issues -- the protection of personal liberties and constitutional safeguards as the basis of a democratic political order and the containment of an independent West German foreign policy though international organizations and treaties. The establishment, rearmament, and economic reconstruction of the Federal Republic of Germany was accomplished within the bounds of such international organizations as NATO, the Western European Union (WEU), the European Coal and Steel Community (ECSC), and the European Economic Community (EEC). In the 1950s, large numbers of U.S. troops were stationed in Europe. Integrative transatlantic institutions, military as well as political and economic, bound the Federal Republic of Germany to the West and laid the foundation for a concerted containment effort against the East.
See also:
About the USA > History of the United States - Postwar America (1945 to the 1960s)


Original Documents
• Amerikas bekannte Geheimwaffe: Care Pakete kommen an
• Candie Bomber Gail Halvorsen Interview 1995
• Charter of the International Military Tribunal,CD
• The Cold War Begins
• Cold War Policies 1945-1991
• The Current Situation in Germany. Address by Secretary Dean Acheson. New York, April 28, 1949 CD
• Besatzer, Helfer, Vorbilder - Amerikanische Politik und deutscher Alltag in Württemberg-Baden 1945 bis 1949
• Cold War International History Project
• Documents on the Founding of the Federal Republic of Germany, May 1949 CD
• Economic Cooperation Agreement Between the United States of America and the Federal Republic of Germany, 1949 CD
• First Strike Options and the Berlin Crisis
• The Future of Germany: Part of a Great World Problem. U.S. High Commissioner for Germany John J. McCloy. Stuttgart, February 6, 1950 | Deutsch CD
• Joint Resolution To Terminate the State of War Between the Unites States and the Government of Germany, 1951 CD
• Letter From President Eisenhower to Chancellor Adenauer on the Implications of the East German Uprising, July 23, 1953 CD
• The Marshall Plan. Background & Remarks of Secretary of State George C. Marshall at the Harvard University Commencement Exercises. June 5, 1947 CD
• Cultural Exchange Between the United States and the Federal Republic of Germany, 1953 CD
• The Nuremberg War Crimes Trials
• On the Front Lines of the Cold War: Documents on the Intelligence War in Berlin 1946 to 1961
• Potsdam Conference, 1945 CD
• Relations: Communique on Economic and Political Talks, April 9, 1953 CD



Original Documents (cont.)
• Restatement of Policy on Germany. Secretary of State James F. Byrnes. Stuttgart, September 6, 1946 CD
• James F. Byrnes's Speech in Stuttgart "Rede der Hoffnung" , 1946
• Interview with RIAS Director, Robert H. Lochner
• Senate Concurrent Resolution Expressing Friendship and Sympathy for the People of East Germany, August 3, 1953 CD
• Treaty of Friendship, Commerce and Navigation Between the United States of America and the Federal Republic of Germany, 1954 CD
• Truman Doctrine, 1947 CD
• U.S. High Commissioner John McCloy - Farewell Address to German Exchange Students. U.S. High Commissioner John J. McCloy. Frankfurt, August 9, 1950 (Deutsch/English) CD

Biographies
• James F. Byrnes, U.S. Secretary of State (1945-1947) | Deutsch
• Lucius D. Clay, Military Governor of Germany, Father of the Berlin Air Lift | Deutsch
• James B. Conant, U.S. High Commissioner for Germany (HICOG) (1952-4.5.1955), U.S. Ambassador (5.5.1955-1957)
• Dwight D. Eisenhower, U.S. President (1953-1961) | Deutsch
• George F. Kennan, Department of State, Director of the Policy Planning Staff (1947-1949)
• George C. Marshall, U.S. Secretary of State (1947-1950) | Deutsch
• John J. McCloy, Military Governor and U.S. High Commissioner for Germany (HICOG) (1949-1952) | Deutsch
• Shepard Stone, Information Officer, U.S. High Commission (HICOG) (1950-1952)(Deutsch )
• Harry Truman, U.S. President (1945-1953) | Deutsch